10,000 Islands Excursion - 3.5 Hours
Daily Tours - 9:00 & 1:30
Naturalist Led Everglades/10,000 Islands Excursion
Limited to Six Guests - From $129.95 Per Person; Kids 12 and under from $89.95
Excellent Shelling on Remote Islands!
Great for all Ages and Experience Levels
Private tours are available and reservations are required.
Departs from Marco Island (Goodland) -- Goodland Boating Park

The 10,000 Islands Excursion arguably is the best way to experience the natural world around Marco Island. Conducted within the 10,000 Islands Wildlife Refuge, you will experience what many describe as the best of Florida.
The tour is two-part. The first part is a slow, intimate boating tour amongst the remote islands of the refuge. While you search for dolphins, manatees and sea turtles, you may encounter ospreys, bald eagles, ibis, roseate spoonbill, egrets, herons and any number of shorebird species. All the while, your formally trained naturalist guide will talk to you about the area's ecosystems, it's long history and rich culture.
The second part of your excursion is an exploration of a remote barrier island beach ... an island that you only can reach by boat ... an island that few get to experience. Learn about beach dynamics; stroll through the tidal flats and wade the tidal pools of these remote islands.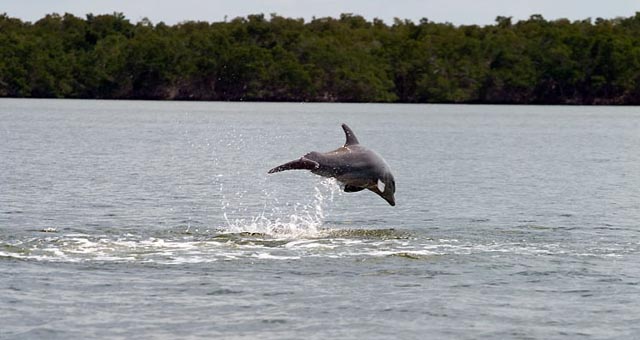 If you enjoy shelling, imaging shelling on islands that are NOT picked daily by 100's of people. With naturalist guide, learn not about individual shell animals, but actually learn "how to" shell.
With supple seine nets, in thigh-high water, capture critters that you can't see from the surface and then humanely release them back to their homes. This is an excellent "hands on" experience for the young and old alike. Your naturalist guide will facilitate parents and grandparents wanting to be the educators.
This is not a typical preprogrammed tour. Every day and every tour can be different, so be sure to discuss with your guide the possibilities. This tour is approximately 3.5 hours in duration and departs twice daily at 9:00 and 1:30. Advanced reservations are required. Don't forget your cameras!
Advance purchase required!

<

or call Marco Island Boat Tours at 239-695-0000
Email
MarcoIslandBoatTours@gmail.com